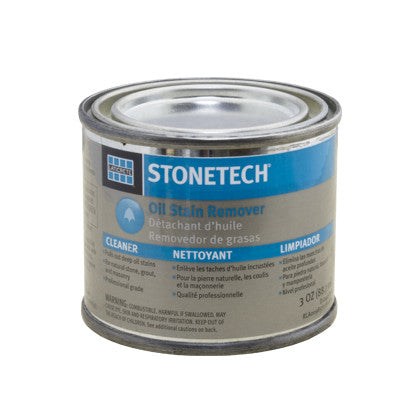 Countertop Stain Remover StoneTech
---
Natural stone is a durable material that stands up to intense wear and tear. For this reason is has been used in some of the greatest outdoor wonders of the world, such as the Great Pyramid in Egypt. However, all natural stone countertops are porous to some degree. Because of this, it is important to seal your countertops at least twice per year to avoid staining and etching from acidic liquids and harsh cleaners. However, if your natural stone countertops have already been stained, don't worry. Products, like DuPont StoneTech Oil Stain Remover can restore your natural stone countertops back to their original beauty.
The DuPont StoneTech Countertop Stain remover is a fantastic product for those who have a stone counter, which has been stained. It is specifically developed to get deep-set oil stains out without leaving any residue behind. The easy-to-use formula comes in a resealable 3oz container. For household countertop stains, there's no better option.
For Use On:
Natural Stones such as Marble, Granite, Limestone, Travertine, Slate, Onyx & Gemstone
Grout
Masonry
Concrete
Stains on natural stones are a travesty. Although stains don't occur often when they do it's a real eyesore. Granite and marble countertops are beautiful and there's nothing worse than tarnishing them. It will actually diminish the equity of your home. But there is one quick and easy way to remove these stains – the DuPont StoneTech Countertop Stain Remover.
Natural stone countertops are a serious investment. It often takes homeowners months of shopping around to find the stone that's perfect for their project. There's nothing worse than finding the right countertop option and then ruining it with silly accidents. Stubborn stains on countertops are frustrating and soapy water just won't get the job done. 
---
Share this Product
---
More from this collection