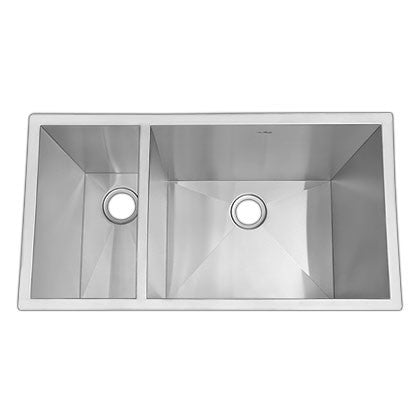 DiMonte 30-70 Sink LA-337L
---
Recommended Add-On Products
                                                 Kf-3 Faucet           AGM Daily Cleaner         S110 Soap Dispenser
---
Lavori sinks offer geometric simplicity with minimalist design for the ultramodern kitchen. High lustrous brushed finish, sound absorbing undercoat over silencer pad insulation, heavy 18 gauge steel, and deep 10" bowls makes each model the ideal work area . Also features rear-set drains and 8" deep prep bowl on the left.

 
Double 70/30 Bowl
Fits 36" Cabinet
18 Gauge
Right Bowl: 21" x 16" x 10" Depth
Left Bowl: 9" x 16" x 8" Depth
Overall size: 33" x 18"
Brushed Finish
Includes Cut-Out Template
Soundproof Undercoating
Rear Set Drain

Transform your kitchen experience with DiMonte's 30/70 stainless steel sink. Engineered for enhanced functionality, this sink is designed to streamline your meal preparations and cleaning tasks. Its compact side sink serves as the ideal spot for warm water during dishwashing or as a disposal area while cooking, boosting your kitchen efficiency.
Experience the LAVORI Gourmet Single Bowl Sink - LA-337L. The overall dimensions are 33" x 18", with depths of 10" and 8". This sink, boasting an 18 gauge and undercoated over a silencer pad insulation, ensures minimal sound during use. It fits perfectly into a 36" cabinet and features a rear-set drain opening for added convenience.
Enhance your sink with our optional accessories. Choose from our W230 wire grid (20.5" x 15.5"), W337 (8.5" x 15.5"), and C410 wooden cutting board. Please note, the cutting board is designed to fit only in flush sink cutouts. To utilize this accessory, please specify this requirement when ordering the stone.
---
Share this Product
---
More from this collection